FSHOW News
» over 360 Fertilizer exhibitors Fshow2018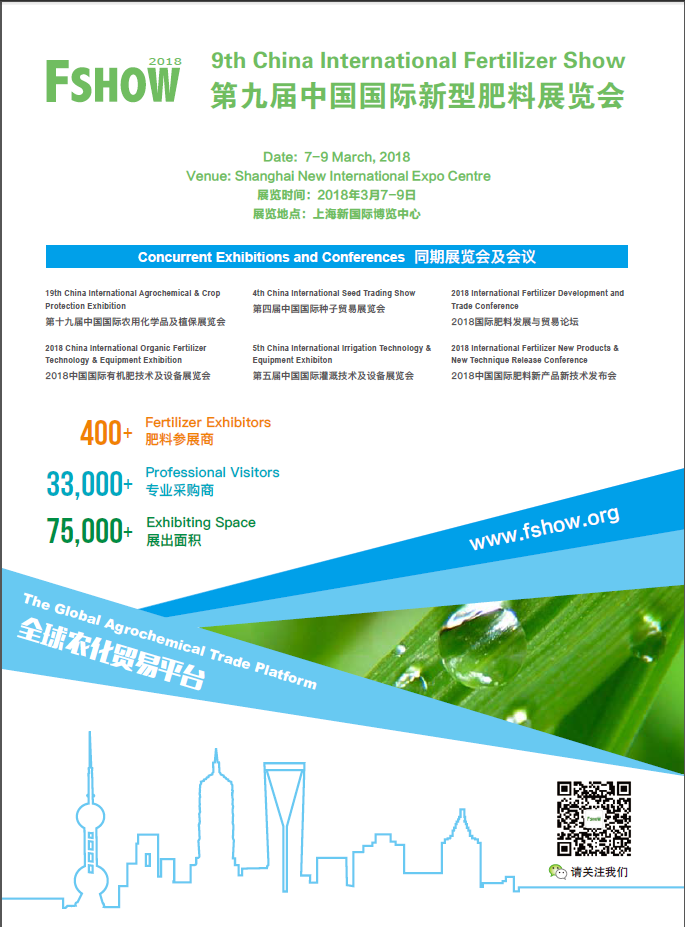 Fshow2018 , 9th China International Fertilizer SHow will be held on 7-9 March, 2018 in Shanghai New International Expo Center. Fshow is the Fertilizer Zone of China International Agrochemical Crop Protection Exhibition(CAC) from 2010. With 8 years continuous holding, it has become world leading and famous show in Fertilizer Industry.
The annual FSHOW provides fertilizer enterprises a wonderful platform to display the enterprise situation, explore the market, find cooperation partners. Meanwhile, FSHOW also provides purchasers home and abroad a reliable purchasing platform.For FSHOW2018, many famous and large-scale enterprises have booked stands, such as SINOCHEM, LUXIGROUP, KINGENTA, SEAWIN, WUZHOUFENG, ZHONGDE GROUP, XINYANGFENG, MONBAND, LEILI GROUP, JIAOCHENG HONGXING, RIZHENGJIUAN, BRIGHT MOON BLUE OCEAN, FONDIN, JINGLING OCEAN, BELUCKEY, GENLIDUO, CITYMAX, JIEJING GROUP, HAITOR, SQM, RURAL, HUMA, LIMA, AGRITECNO, RNZ etc.FSHOW2018, exhibiting space is expected to be 75,000 sqm with 1,300 exhibitors from more than 20 countries. You will meet more kinds of products, more people from the whole world and more information in fertilizer field.We cordially welcome you to join in this wonderful moment!
9th International Fertilizer Show-Fshow
Shanghai New International Expo Center
Exhibit Profile
Water Soluble Fertilizer, Slow/Controlled Release Fertilizer, Seaweed Fertilizer, Humic Acid Fertilizer, Amino Acid Fertilizer, Microbial Fertilizer, Micronutrient Fertilizer, Fertilizer Additive, Soil Conditioner, Organic Natural Fertilizer, Environmental Friendly, Special Fertilizer, Chelate Fertilizer, Water Flush Fertilizer, Foliar Fertilizer, EDTA, Compound Fertilizer, Polypeptide Fertilizer, Phosphate, Sulfate, Nitrate, Nitrogen Fertilizer, Potash Fertilizer, Magnesium Fertilizer, Fertilizer Packaging and Production Equipment, Integration of Water And Fertilizer, Irrigation, Fertigation Equipment, Soil Analytical Instrument.