Industry News 2
» Seawin Biotech has obtained the global leading REACH registration of kelp hydrolysate, the only registration in China!
REACH is a unified chemical management system created within the EU, enabling companies to follow the same principles to produce safer chemicals and their products, and stimulate competition and growth. Its chemical safety assessments include human health assessments, physical and chemical assessments, and environmental hazards. Evaluation, PBT, vPvB evaluation, etc., have high technical barriers.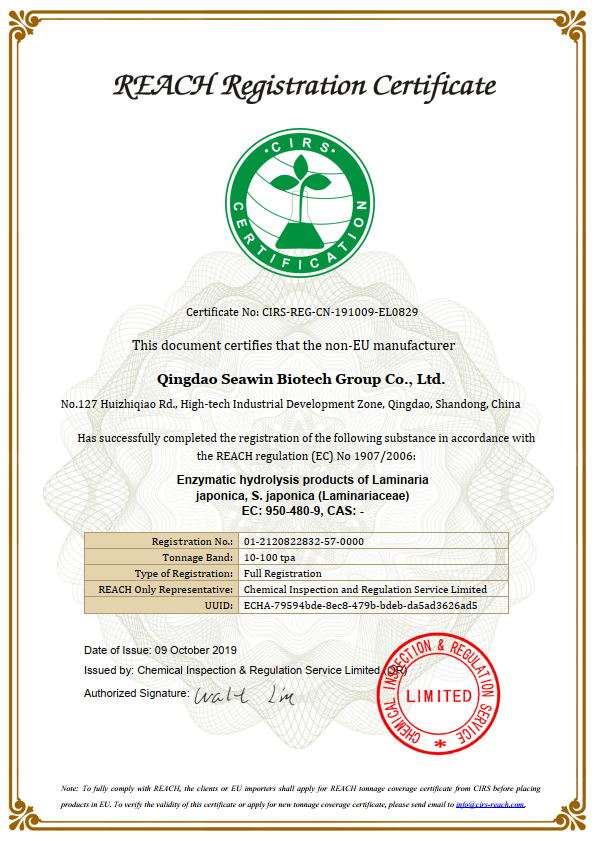 The European Union began to implement on June 1, 2008, the full name is "Registration, Evaluation, Authorization and Restriction of Chemicals" the chemical registration, evaluation, authorization and restriction regulations (hereinafter referred to as REACH regulations), as long as the annual export volume is greater than 1 ton Chemical substances entering the EU market must complete pre-registration or registration. Completing the formal registration is equivalent to obtaining an amulet for permanent entry into the EU market.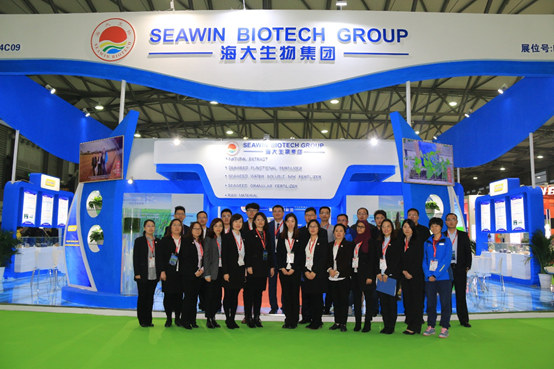 Reach's global leading registration is an affirmation of the comprehensive strength of Seawin's biotechnology level, corporate brand, and export tonnage. The successful registration after many rounds of rigorous and even harsh evaluations indicates that the kelp enzymolysis technology and innovative products mastered by Seawin Biotechnology have achieved full access to EU high-standard countries.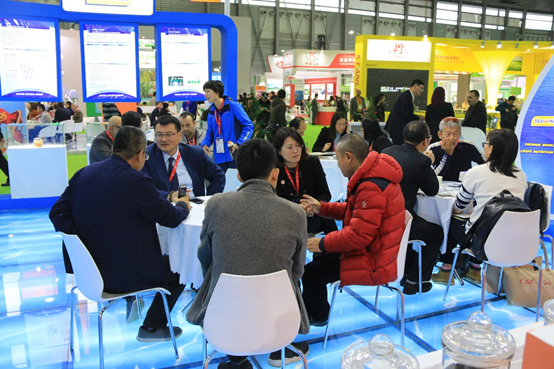 Seawin Bio Products shines in the international market. On the one hand, it benefits from its strong scientific and technological strength and adherence to product quality. On the other hand, it benefits from its significant resource advantages. Rongcheng Lidao is known as the "Hometown of Chinese Kelp" Famed, Seawin Biotechnology uses the rich high-quality deep sea kelp resources in Lidao Town, Rongcheng City, Weihai, vigorously develops marine health food and deep research and utilization of Seawin, promotes the upgrade of the kelp industry, and further promotes the scientific and technological, branding and Industrialization development level.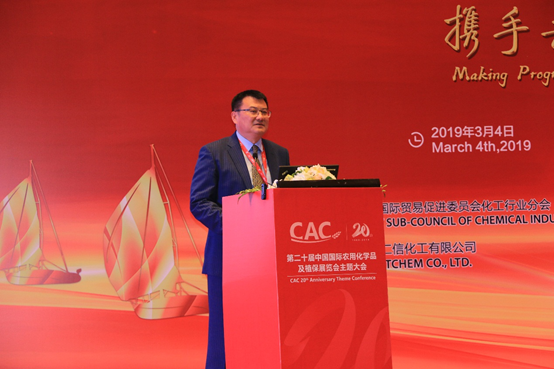 Thousands of thousands of people have worked hard, and they have blown up the yellow sand to the gold. In recent years, the company's products have obtained EU organic certification, ECOCERT organic certification, REACH certification, green food production materials certification, COFCC organic production input certification, etc. On June 7, 2019, Seawin Biotechnology obtained the Australian Organic Certification, and multiple Seawin Biotechnology products entered the "big list" of Australian organic farms. This time it was registered by Reach Global Leader, the only registration in China, and the company's overseas market development Stride forward. Adhering to the corporate mission of "Based on the development and utilization of marine living resources and providing high-quality products and services for human health", Seawin will continue to adhere to the leadership of science and technology, adhere to the concept of quality, and develop and utilize the world's leading marine living resources. March forward. In the 8th CAC Awards, Seawin Biotech won the "Fertilizer Enterprise with International Influence Brands Award", which represents Seawin Biotech's recognition in the field of global seaweed fertilizer.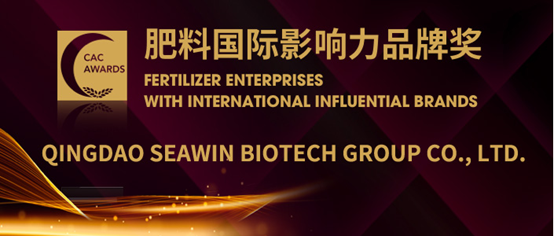 Contact: Qingdao Seawin Biotech Group Co., Ltd.
OIC: Anna Song
Fax: +86-532-85902228
E-mail: sales@coub.cn
www.seawin-bio.com