Industry News
» How long does it take to register a new fertiliser product in India?
How long does it take to register a new fertiliser product for introducing in farmers' fields?

That time averages 804 days for India, according to the World Bank's own latest "Enabling the Business of Agriculture 2017" report. The only countries taking longer are Romania (1,205 days), Nepal (1,125 days), Bangladesh (945 days) and Malawi (913 days).

Commercialisation of any new fertiliser in India requires it to be first field-tested for at least two crops over two seasons. The trial data has to, then, be submitted to the Union Agriculture Ministry (it has a joint secretary in charge of integrated nutrient management), which forwards the report for evaluation by a Technical Committee. The latter's recommendation for approval is further put up before a 14-member Central Fertiliser Committee. Once cleared by it, the file goes for signing by the agriculture minister before the product gets finally notified under the Fertiliser Control Order as qualifying for use by farmers.

"The whole process takes 2-3 years, if things go well," say industry sources. What it also does is to hinder the introduction of value-added fertilisers or speciality nutrients. Unlike common bulk fertilisers — urea, di-ammonium phosphate (DAP), muriate of potash (MOP) or even complexes containing nitrogen (N), phosphorous (P) and potash (K) in various proportions — these are products that deliver the underlying nutrients more efficiently, while making them available to the plant with least volatilisation/leaching/surface runoff losses.

Speciality nutrients fall under three broad categories.

The first is water-soluble fertilisers such as calcium nitrate, potassium nitrate, mono-ammonium phosphate, mono-potassium phosphate and sulphate of potash (SOP). These fertilisers — there are also water-soluble versions of NPK complexes like 19:19:19, 24:24:0 and 28:28:0 — are suited for both drip irrigation and foliar (leaf) spray application. This is as against normal fertilisers, which aren't 100 per cent soluble in water; injecting them with water ("fertigation") only ends up clogging the pipes and emitters.

The second category comprises secondary nutrients (calcium, magnesium and sulphur) and micronutrients (zinc, boron, iron, manganese, copper and molybdenum) based products. They include zinc sulphate, bentonite sulphur, ferrous sulphate, copper sulphate, manganese sulphate, borax acid, and molybdenum trioxide. Their application is meant to address the severe deficiency of secondary nutrients and micro-nutrients in Indian soils — arising from intensive cropping based on unbalanced use of primary nutrients, especially N.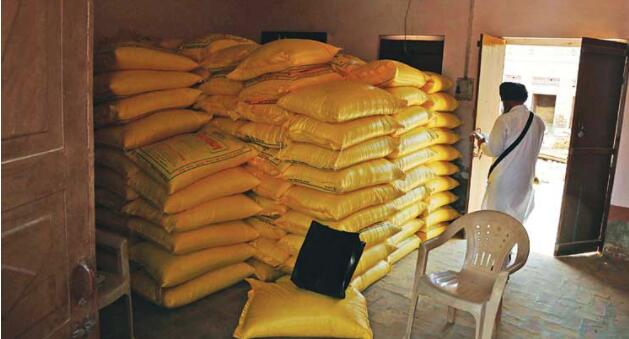 Finally, there are specialilty NPK fertilisers designed to meet specific crop requirements. The Norwegian chemical major Yara International, for instance, is marketing two complexes in India, the first one (12:11:18) targeting horticulture crops (banana, grapes, pomegranates, tomatoes, onions and assorted vegetables) and the second (15:09:20) mainly for coffee.

"Unlike in urea, the N in YaraMila Complex (the brand name for 12:11:18) is a combination of both nitrate and ammonium nitrogen. Nitrate nitrogen (42 per cent) ensures rapid growth of the plant in its early stages, while ammonium nitrogen (58 per cent) prolongs the availability of N. The combination minimises volatilisation losses. Also, the source of K in our product is SOP, which is better suited than MOP for chloride-sensitive, high-value fruit and vegetable crops," claims Sanjiv Kanwar, senior vice president (commercial), Yara Fertilisers India Pvt. Ltd.

But despite their higher nutrient use efficiency and yield benefits – pushing water-soluble fertilisers is, incidentally, also consistent with the government's own micro-irrigation and "more crop per drop" initiatives — the existing policy regime is tilted against specialty nutrients. The problem isn't just the sheer time and bureaucratic procedures for bringing any new product into the market. None of the value-added fertilisers qualify for subsidy either.

"Currently, if I sell plain 19:19:19, 24:24:0 and 28:28:0, the subsidy ranges from Rs 7,437 to 8,676 per tonne. But the water-soluble grades of the same complexes aren't eligible for any subsidy. Likewise, there is an additional subsidy of Rs 300-500 per tonne when normal fertilisers are fortified/coated with boron and zinc, but none on specialty micronutrient or secondary nutrient-based products," points out G Ravi Prasad, president (marketing) at Coromandel International Ltd, which has a joint venture with SQM of Chile for manufacturing water-soluble fertilisers at Kakinada in Andhra Pradesh.

The ultimate loser from a subsidy-cum-registration regime that does not encourage use of value-added fertilisers is the farmer. He ends up applying more urea, DAP and other commodity fertilisers with little regard to crop requirements or soil-climate conditions. All this, moreover, militates against the government's schemes, whether relating to "more crop per drop", soil health cards or nutrient based subsidy.

In 2016-17, urea sales in India amounted to 29.61 million tonnes (mt), while 8.82 mt for DAP, 8.44 mt for NPK complexes, 4.20 mt for single super phosphate and 2.82 mt for MOP (direct application). The Centre's entire Rs 70,000-crore fertiliser subsidy bill — barring a small Rs 15 crore component for city compost — was also dedicated towards these nutrients.

On the other hand, the estimated market for specialty nutrients was Rs 2,500 crore, nearly half of it accounted for by water-soluble fertilisers. Total volumes, too, were reckoned at a miniscule 500,000-550,000 tonnes, including 200,000 tonnes for water-soluble fertilisers.

The upcoming Union Budget should hopefully correct the above imbalance by simplifying the registration process for new fertilisers and making subsidy truly nutrient-based.